What is the NightWatch?
Livassured has developed the NightWatch in cooperation with the epilepsy institutes Kempenhaeghe, Sein and UMC Utrecht. The NightWatch is a detection device for epileptic episodes that comprises of a bracelet with heart rate and movement sensor and an alarm station that provides the notifications. The NightWatch warns caregivers in case of a clinically urgent epileptic episode, being:
- Tonic-Clonic
- Tonic more than 30 seconds
- Hypermotoric

Clinical validation and test program

A clinical evaluation for intramural patients aged 12 years and more, has been completed. A total of more than 40.000 nightly hours has been registered and observed. The evaluation shows that the NightWatch detects 90% of the episodes in case of patients who are fit for the NightWatch. 
This achievement indicates a strong improvement compared to the current epilepsy episode detection devices. To compare: the only alternative, a well known bed mat with a movement sensor that is in use today in institutes, on average scores less than 30% in detecting clinically urgent episodes, according to the preliminary results of the clinical evaluation. See the infographic below.
At the moment a last phase of the clinical evaluation is executed in which also younger children are included. The first results are promising. This phase will be completed August 2017.
Next to this clinical evaluation, an elaborate 'impact test' at 55 families in The Netherland and Flanders (Belgium) is held, in the context of the EU Interreg progeam. The aim of this test is to assess the impact of using the NightWatch on particularly the parents and other caregivers in the home situation. To what degree do their lives improve?

 

Infographic 'Sensitivity and positive predictive value NightWatch'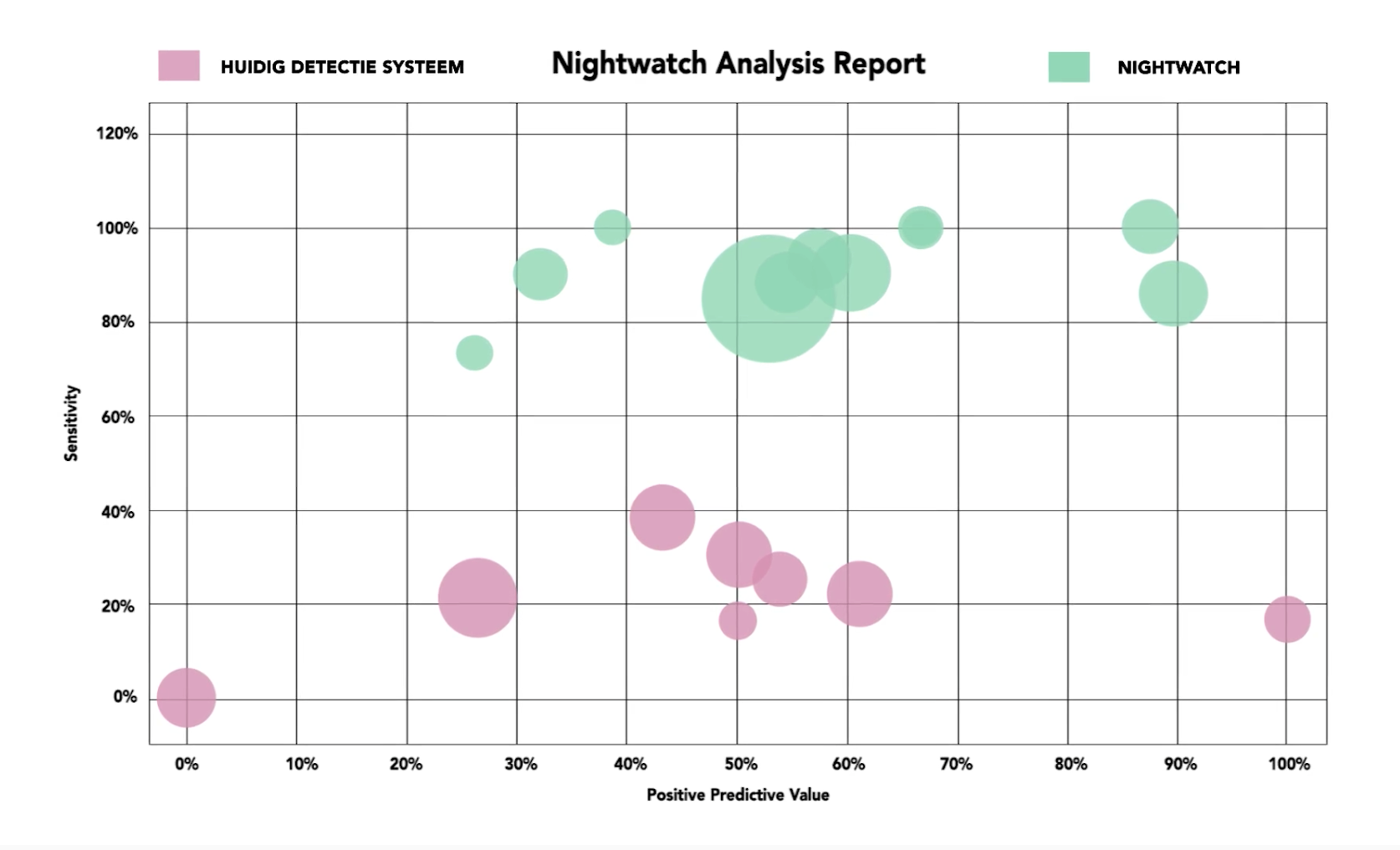 Sensitivity
= what percentage of the occurring clinically urgent episodes are detected by the NightWatch?
Positive predictive value
= in what percentage of the alarms occurring, there indeed takes place a clinically urgent episode?