Nightwatch wins award


'Good Industrial Design'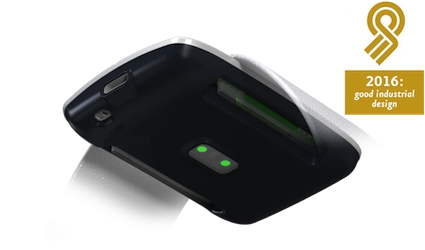 Supervision during the night is a requirement for children and young people with epilepsy. Existing warning systems still fail to detect the majority of nightly episodes. The NightWatch was designed to change this situation. The first test results of this revolutionary form of nightly supervision are promising. On 24 October 2016, it was announced that the look and feel of the NightWatch are also greatly appreciated. During the Dutch Design Week, the NightWatch won the Good Industrial Design award.
The NightWatch is the result of a consortium of parties: Kempenhaeghe / Technical University Eindhoven, SEIN, UMC Utrecht Hersencentrum, Hobo Heeze BV, Pontes Medical, Epilepsy Fund, Livassured and several patient interest groups, including the ZIE Foundation. NPK design was commissioned to create the design of the new system.

Help and assistance
During a nightly epilepsy seizure, it is important that the patient quickly gets help and assistance. Although warning systems for nightly episodes do exist, they often issue false alarms or fail to detect episodes when they occur. Figures show that the existing systems are only able to detect around 40% of the clinically urgent episodes that occur. The NightWatch is different. At the moment, this new form of nightly supervision is undergoing a clinical trial, during which it is able to detect around 90% of all clinically urgent epilepsy seizures.

Appearance of the NightWatch
During development, the visual appearance of the product was just as important as its performance. Asmund Tielens, director of Livassured, the company developing the NightWatch system, explains: "The goal was to increase the safety of the patient, of course. It was clear from the beginning that – no matter how advanced the technology is – there is one important consideration to keep in mind: young people have to actually wear the product! That means it has to look good, be easy to operate and basically be perfect. When some users during the trial wanted to keep wearing the product even during the day, we discovered that we had achieved our goals. The fact that industry experts also awarded the product the title of Good Industrial Product gives us hope that the NightWatch is here to stay."

From test to introduction
The NightWatch system is currently undergoing clinical testing at Kempenhaeghe, SEIN and UMC Utrecht Hersencentrum. The results are expected to be in by the end of the year. Early next year, a so-called field trial will be the next step on the road to getting the product ready for its market introduction. The developer hopes to launch the product in 2017.